CycKnight Folding Electric Bike
Sale price
$759.99
Regular price
$949.99
Estimated Delivery:Dec 11 - Dec 15

Shop By Confidence: 13 Months Warranty
CycKnight Folding Electric Bike
Sale price
$759.99
Regular price
$949.99
CycKnight Folding Electric Bike
CycKnight folding electric bike is economical, with a sleek outlook and multiple functions. This electric bikes for adults can be charged in 3-4 hours fully, up to 48 miles for its fast charger. 3 riding modes and 5 levels of pedal help you enjoy riding. The 20" x 4.0 fat tire and 48V 12.5AH/20AH removable electric bike battery mean more options for your ride plan. The dual shock absorber ensures that you can have a safe and ultimate experience.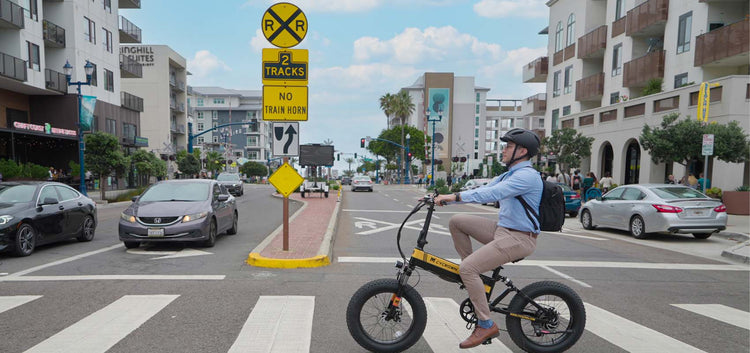 Best Folding Electric Bike

2X Faster Charger
Suitable for mountainous areas, cities, beaches, and snowy areas.
SPECIFICATION
Battery

600 Wh (Certification: UL)

Range

28 - 48 miles per charge (estimate)

Max Speed

20 MPH

Motor

500W (Peak 750W)

Wheel Size

20 Inches

Water Resistance

IPX4

Charge Voltage

100-240V/3A

Charge Time

4-5 Hours

Folding Size

39.4*22.5*32.3"

Net Weight

65.6lb
SIZING
FAQS
Q1:How long time to take a full charge for this electric bike?
Answer:We equipped a large 12.5Ah battery and super fast charging technology with this electric bike.
The charging time is about 4-5 hours.

Q2:Anyone knows whether this ebike has a warranty?
A:CYCROWN team offers a one-year warranty on electrical components such as batteries, chargers, motors, controllers, monitors, and lifetime technical support.

Q3:what is the best mode of riding it is it on number 3 with a pedal?
A:The Cycknight Electric Bike has three riding modes. Pure Electric (28-37 Miles); Pedal Assist (37-48 Miles); Normal Bike (Unlimited). The specific riding style can be adjusted as needed. Any questions, please contact the customer team. We will provide fast and professional technical support.

Q4:How long does it take to charge?
A:We equipped a large 54.6V 3A super fast charger. The charging time is about 4-5 hours and the maximum range can be up to 48 Miles.

Q5:How far can the bike get for one charge?
A:The e-bike has 4-5 hours of charging for a range of 28-48 miles. Pure Electric (28-37 Miles); Pedal Assist (37-48 Miles); Normal Bike (Unlimited).

Q6:Is there anyway to make this bike faster?
Answer:Press and hold down the two arrow buttons and you can switch to PO8 by pressing the M or the Menue button. But keep in mind it will drain your battery faster.

Q7:Can you purchase an extra battery for it?
A:You can purchase an extra battery for an electric bike. The battery is already in transit. It is expected to arrive Soon.

Q8:It say the battery is easy to remove so is there a lock to help prevent theft?
A:The removable battery is convenient. You to take the removable battery away for charging at any time. The e-bike itself is equipped with keys. You can unplug the battery and lock the electric bike to prevent theft when you do not use the electric bike.

Q9:Worth it to buy this bike? For commute purposes only?
A:The CycKnight Electric Bike is a powerful and cost-effective multifunctional e-bike. Pure Electric (42-53 Miles); Pedal Assist (53-75 Miles); Normal Bike (Unlimited). The maximum range with that charge is up to 75 miles. You can easily use this electric bike for your daily commute, going out for coffee with your friends or on a picnic with your family, or riding.

Q10:What is the total weight/load capacity that this bike can carry?
A:The fat tire folding electric bike weighs about 65 LBS and can carry about 330 LBS.

Q11:What's the size after folding the bike?
A:The folding size of this ebike is 39.38in*22.44in*32.28in.
You can easily put it in your car's back truck.
WHAT'S IN THE BOX?
      Packing List
 Bike Frame*1
 Rear Wheel*1
 Front Wheel*1
Pedal

*2

Hex Key

*3

QR Skewer

*1

Charger

*1

Wrench

*1

User Manual

*1

Battery Key

*2

Bicycle Pump

l

*1
Reviewer's Showroom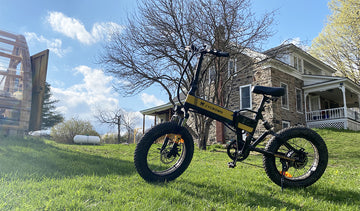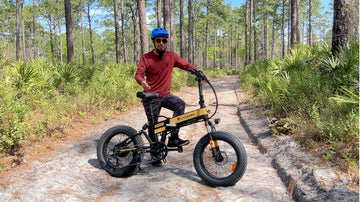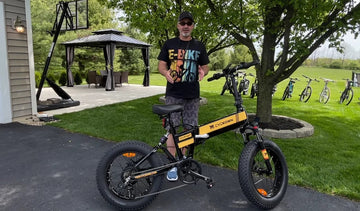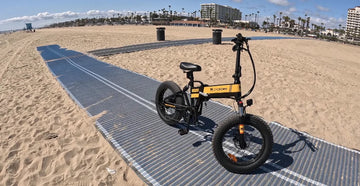 Wow🤪
Quick shipping, said between the 21st and the 29th, got it the 21st, solid box, everything was packet nice and every part of the bike was wrapped so there would be no scratches on it. Assembly was very easy, solid bike, welds are nice and clean, paint job nice and shinny, nice soft seat, suspension makes it smooth to ride on rough terrain. Up and riding less than 30 minutes. Simple to use, I use the peddle assist mostly especially to start off to save some battery and get some exercise 🤪.
I've had a few weeks now let me tell you this bike is a beast, climbing big hills or steep inclines not a problem, I hardly had to peddle, I couldn't believe it but it did it. The 12.5 amp battery lasts a long time, sure it can do 50 km or so just haven't pushed it to the end yet. I had a scooter before this and I was always scared it would die before I got home. It died on me once and of course far from home and it was hell peddling that scooter. I've travelled the same distance and more to get home with 50% battery left. I am not afraid of it dying on me at all, plus It's a lot easier to peddle than the scooter. Disc brakes are fine, light works great, ride is smooth and actually love riding this puppy, it's actually fun to ride again, lots of power and for the price an amazing deal! I learned to unlock the display, oh yes nice clear display even shows % of battery life, but after unlocking it I can go 50km an hour, I find low forties is great for me, makes a huge difference, especially like it doesn't cut off at 32km, was annoying.
Let me tell you it's worth every penny, was worried and paid $600 less ordering it online, thought it would be cheap quality but it's just as good if not better than I've seen here in Ottawa. Happy camper😁😁😁❤️❤️❤️ wish I could put more vids but can only upload one😢
I decidedf to get this bike for my wife on her birthday. With so many options, it was tough to decide, and who to trust. I felt this bike had good reviews, and the options seem to be perfect. I wanted her to have wider tires since we live near the beach. I also wanted it to be sturdy so that she wouldn't fear falling when she hit some bumps. I also wanted her to EASILY maneuver between auto and manual pedaling - with varied degrees of assistance. She needs her exercise, but at times has hip issues, so she needs more assistance.
Wanted to save some money on gas and needed something to go from A to B. Assembly is easy, charging is straight forward, and doesn't require any "biking" experience to be able to operate. Has both throttle and pedal assist, but I mainly use pedal assist to save the battery.
I love the bike and the way it drives I would recommend it to a friend any day, it's a really good electric bike but.
Great bike, Great price
My wife wanted an e-bike so after much research I decided on the Cycknight. It is very well built, comfortable, great looking piano black finish paint and performs very well. I unlocked the speed control partially and drove it up to around 28mph and I believe it would go faster if I full removed the speed control. However as other reviewers state going faster then 20mph just gets to be dangerous on a bike so I restored the control to max of 20mph. Great bike, well made and at a great price point. My wife loves the bike and has had many complements from her friends.
Assembly was quick and easy. Quality product.